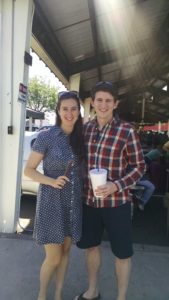 My wife, Kristen, and I were married in the spring of 2015. There has been no greater joy in my life than having her as my partner on our life journey. It may be cliched, but I truly feel like I am the luckiest man on earth. I have found my soulmate.
A few things I love about my wife:
– Witty puns
– Freeform cooking masterpieces
– Last letter word game
– Yard saling together
– Her love of all things alive
– Plants everywhere
– Laughs at my jokes
Being her husband is the best part of my life!